We are excited to announce our new work-from-anywhere office! Last year, our team immediately transitioned to a full work-from-home model when the covid-19 shutdown occurred. We were already confident in the tech side of things, but we had not yet experienced the exclusively online interaction and KPI-driven success matrix that fully remote work requires. As it turned out, we loved it! Effective communication technology from Cisco and Microsoft kept us connected and productive, and cutting out the daily commute wasn't all that bad, either! This year, we decided to make the shift to a permanent hybrid office and work-from-anywhere business model and move to a space that reflected our new and improved work structure.
Our New Address
12232 Thatcher Court
Poway, CA 92064
You can find us here and everywhere with an Internet connection, ready to help.
The IT Office Move
Moving computers to a new office space is a typical service we provide for our clients. It's not often we get to do it for our own team, which made this particular move extra exciting.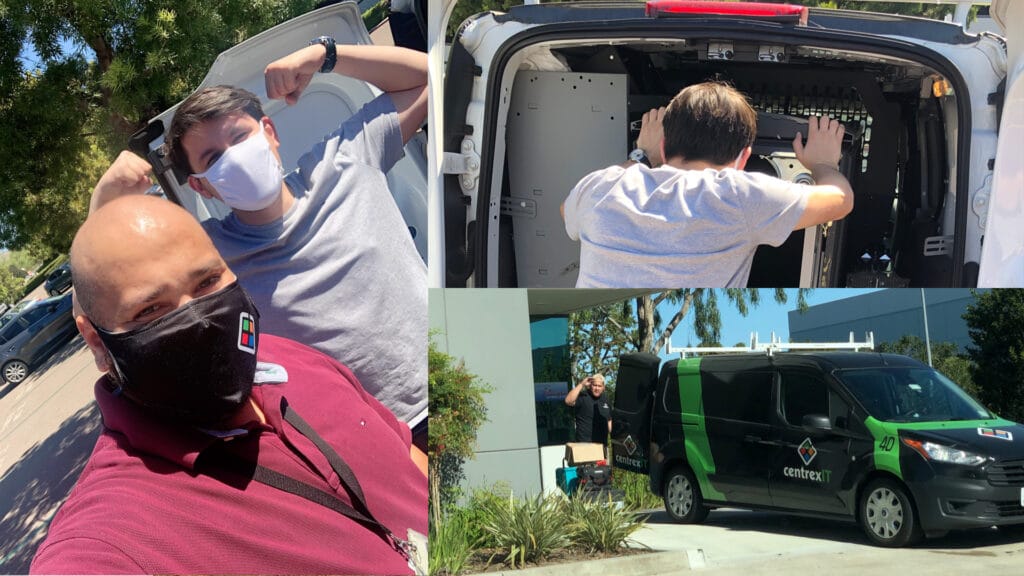 The New Office
One thing we love about our new office space is the ground-floor design. The high-rise setup we had before was great for our back office and service desk teams. However, moving equipment up and down fourteen stories was not efficient for our field engineers and provisioning department. With the hybrid work-from-anywhere office model, our back office and service desk teams now only visit the office on a part-time basis. This new space prioritizes the requirements of the technicians and engineers who come in regularly to prepare equipment and transport hardware to our clients.
Keeping Connected
How do we keep connected during our primarily online interactions? First, our entire team meets every morning at 8:00 am to catch up on any planned company initiatives or urgent client needs. We also have a weekly all-hands meeting with a mixture of company announcements, updates, training, and special guests. Of course, our favorite way of keeping in personal touch are our casual chat spaces. From IT memes to sporting events, we love to share our stories with each other online. This keeps our friendly company culture strong in the work-from-anywhere environment.