Secure your cloud
Microsoft 365 Security
Is your team set up to use Microsoft 365 but you are still worried about business security? We can help you assess, harden and manage the built-in security features of your new Microsoft 365 business solution. Our Microsoft 365 security and security hardening offerings are best suited for SMBs looking to reduce their cybersecurity risks while leveraging modern workforce tools.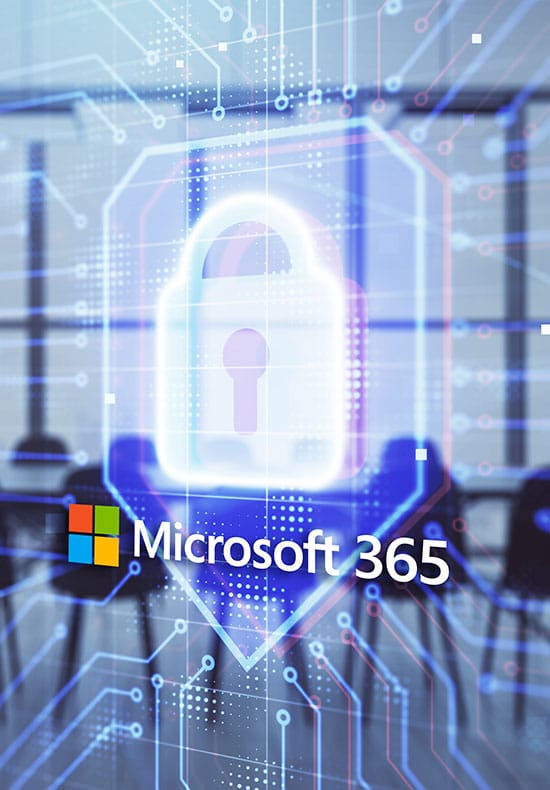 Assess Your Risk
M365 Security Assessment
The M365 Security Assessment identifies security risks and vulnerabilities and provides the insight needed to mitigate these threats and fully secure your most sensitive information. Included is guidance on how to approach identity management, prevent threats from impacting your organization, and how to fully support your compliance requirements.
The audit covers all the areas included in our Managed M365 Security Services Microsoft 365, Office 365, Enterprise Mobility Security and Windows 10 advanced security capabilities.
This engagement includes a customer briefing of the security roadmap for the customer and assessments of regulatory compliance requirements.
Service availability details: One-time
Reduce your Vulnerability
M365 Security Hardening
(Prerequisite: M365 Security Assessment)
The M365 Security Hardening service includes remediation of security risks or vulnerabilities identified with the M365 Security Assessment.
Service availability details: One-time
Proactive Management
Managed M365 Security
The Managed M365 Security service proactively assesses the maturity of your M365 security and provides regular updates on your Security Score. Security Score updates include relevant information about any business risks and recommendations of how to mitigate the risk.
Managed M365 Security includes:
Microsoft Secure Score Management

M365 Security Center Audit Reporting and Response to Threats 

Identity Tracking and Response

Vulnerable-User Activity Tracking

Device Security and Threat Notification

Cloud Application Monitoring and Alerting

Compliance Management
Additional areas monitored:
Exchange Admin Activities Auditing

Office 365 Security Health Monitoring 

OneDrive for Business File Auditing 

Phishing Attack Detection  

SharePoint Online Auditing 

Spam and Malware Detection 

User Logon Activities Auditing 
Service availability details: Available as a monthly service plan
Speak with an Expert
M365 Security Consulting
The M365 Security Consultation service is available on demand. Use this service for expert guidance to assist with your security strategy, M365 Security Management challenges, or M365 compliance requirements.
Service availability details: One-time
We help California businesses take command and control of their IT.
Schedule a Microsoft 365 Security Review today.
Get started today by requesting an online meeting with one of our experienced, certified professionals.