Photo: centrexIT and SynergEyes giving a "high five" to Working Wardrobes. It was a pleasure helping Working Wardrobes help others.
2020 has been a challenging year for many people, in many unforeseen ways. And yet, despite these difficulties, we at centrexIT have been astounded by the incredible work and admirable charity that many of the businesses we serve have continued to do. Recently, we were invited to participate in helping Working Wardrobes help others in our community.
A Hand Up, Not a Hand-Out
Since 1990, Working Wardrobes has helped more than 100,000 people overcome difficult challenges on their journey to meaningful employment. The work they do gives people a hand-up, not a hand out. Their goal is to help people get workforce ready, with dignity. For instance, they provide reasonably priced professional business attire and offer free webinars featuring seasoned professionals. These services help several challenged populations within our community, such as seniors, veterans, unemployed and underemployed people. Working Wardrobes' work is of the utmost importance because it gives tools that help conquer the uncertainty that comes with finding employment.
However, on February 2, disaster struck. Working Wardrobes suffered a catastrophic fire at their Irvine headquarters. This fire destroyed everything, including their Donation Center, Wardrobing Center, Career Center, and Corporate Office. 
After the fire, things looked grim. However, the good that Working Wardrobes had done for the community had not gone unnoticed. They received an outpouring of support from a number of local companies, all of whom were eager to see Working Wardrobes continue their efforts. One of these companies was SynergEyes, a centrexIT client and leader in the corrective vision industry. SynergEyes contacted us to ask if we would join them in assisting Working Wardrobes by making a donation. We were of course thrilled to help!
Who is SynergEyes?
SynergEyes is leading a huge change in the corrective vision industry by delivering personalized contact lens solutions using cutting-edge technology. Their lens offerings don't just correct the way people see, they also integrate advanced materials into their design to ensure the health of their clients eyes.  
SynergEyes is also committed to improving the lives of people in their community through their SynergEyes Cares program. The Cares program coordinates with volunteer events helping the local community, including the San Diego Blood Bank, the San Diego Rescue Mission, and Feeding America. 
SynergEyes' core philosophy of integrity and respect was in perfect alignment with the work that Working Wardrobes did. When they heard about the fire, SynergEyes immediately reached out to see how they could help.
Teamwork Gets Results
Working Wardrobes tirelessly worked to rebuild their facilities. Meanwhile, SynergEyes and centrexIT asked their employees to donate whatever they could, and they did not disappoint. We worked together and collected over 200 articles of professional clothing to donate to Working Wardrobes. We hung the suits and other business clothing up around the office until the volunteers at the donation center were available to process the items.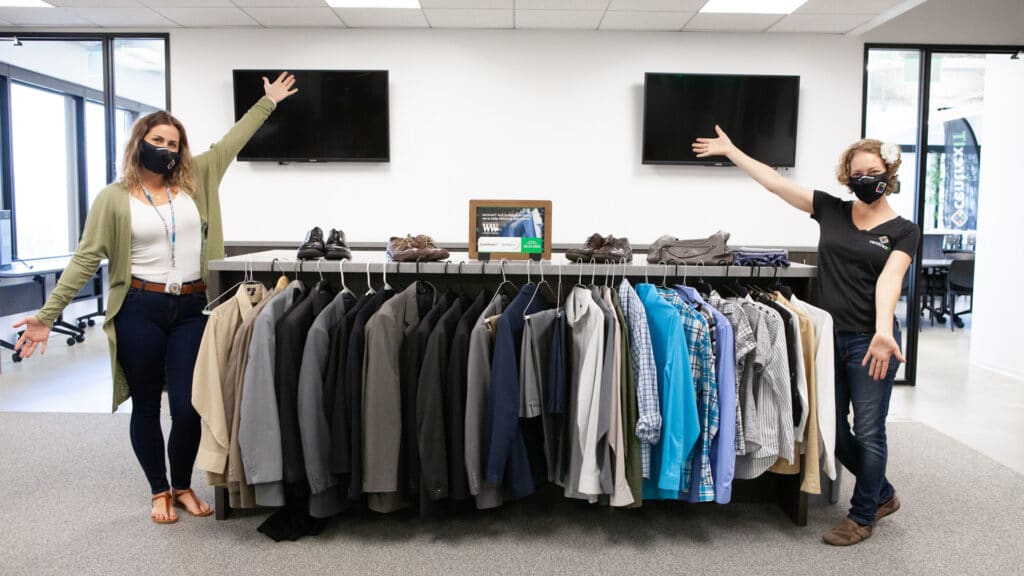 Thank you centrexIT team for the beautiful collection of professional clothing for Working Wardrobes!
This month, the engaged team of volunteers at SynergEyes collected the centrexIT donations. Once Working Wardrobes was ready for them, the volunteers drove everything up to the new donation center in Irvine.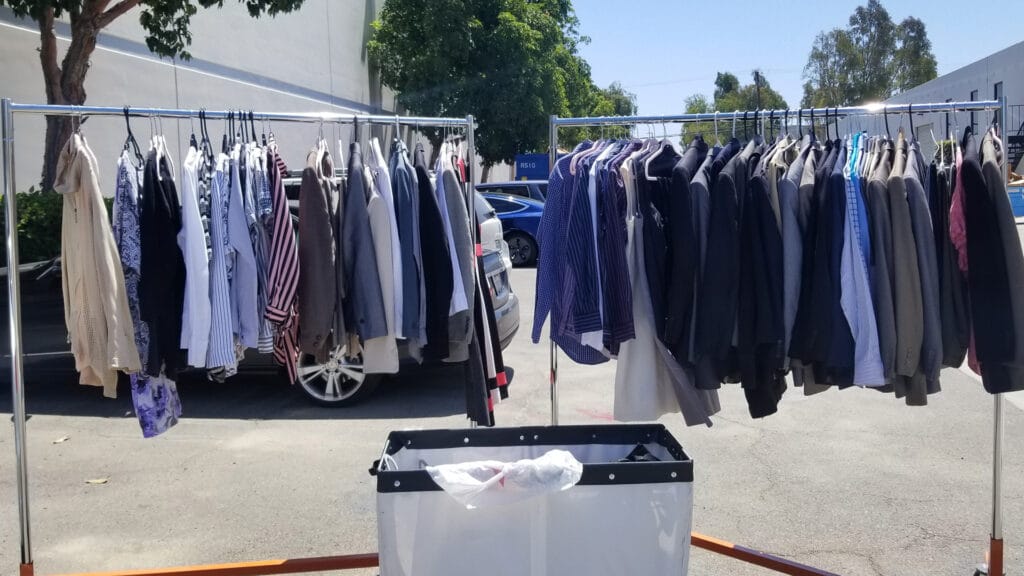 The SynergEyes volunteer team worked hard to move over 200 articles of professional clothing to the new Working Wardrobes donation center. These were just a couple of the racks it took to get everything inside the center.
Helping and Hope
Mister Rogers once said, "When I was a boy and I would see scary things in the news, my mother would say to me, 'Look for the helpers. You will always find people who are helping'." 2020 has been a year of unforeseen challenges and the helpers have stood out as a beacon of hope. Thanks to the help of companies like SynergEyes, the people who rely on Working Wardrobes for assistance finding their way in an uncharted future will be able to find it.