On May 2, 2020 our client, the San Diego Humane Society, is about to hold their biggest fundraising event of the year…virtually! We're so excited about this event. If you participate in the San Diego Humane Society Virtual Walk for Animals with us, then we will give a matching donation up to $2500.
You can go to our team page and donate here:
The San Diego Humane society is an outstanding organization that has gone above and beyond during this pandemic to continue providing high-quality services remotely to support and protect our animals.
Every year, they are the safety net for nearly 50,000 kittens, puppies, horses, hawks, squirrels, bunnies and more. Watch our "Thank you" video below.
Read about how we first started working with this amazing team in our Case Study.
---
Update, June 2020
We had so many team members participate in the virtual walk this year!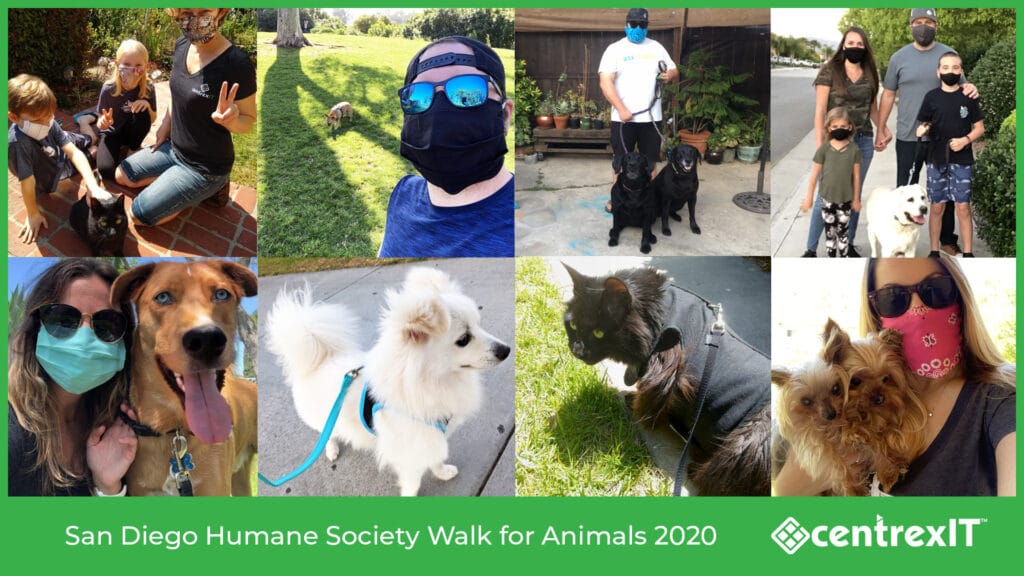 Here are some of our favorite centrexIT animal moments on Instagram:
And finally, at the top of our list:
#stillwalking is a mindset: Little Dagger has been recovering from an injury, but he wasn't going to let that stop him from participating in the #sdwalkforanimals last weekend. This dedicated pup convinced his owner to take him out on a cushion. Nice one, Dagger!